Set preferences
Internal access
The Skedulo Mobile App v3 is for internal access only.
This documentation is provided for internal testing purposes.
The Skedulo mobile app Settings are available in the More menu on the navigation bar. The following app configuration options are available:
Notification preferences (SMS or Push).
Localization for distance displayed throughout the app (kilometres or miles).
Skip navigation options when traveling to a job.
Save original copies of photos on your device. 
Add attachments only when connected to Wi-Fi networks.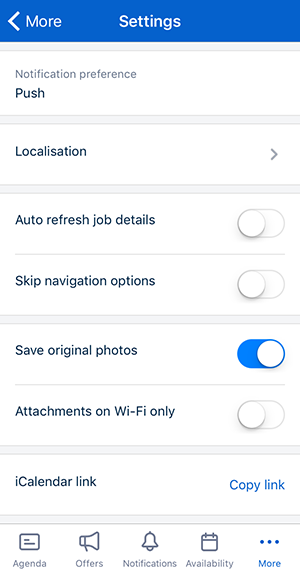 Notification preference
View or change your preferred notification method to SMS or Push.
Localization
Set the distances displayed in the Skedulo mobile app to either Kilometres or Miles.
Skip navigation options
The travel and navigation options open device navigation services, such as Google Maps, to provide directions to the job location. However, not all organizations require these services.
Switching the skip navigation switch ON allows mobile users to skip the Skedulo navigation options.
The default setting is OFF.
Save original photos
Save the original photos taken using the Skedulo mobile app locally on your device. The save original photos switch controls if copies of the photos you take using the app are saved locally (ON), or not (OFF).
The default setting is ON.
Note
Some orgs do not allow images to be stored locally (for HIPAA compliance reasons). These permissions are set in the admin settings of the web app.
Attachments on Wi-Fi only
Specify if you only want to allow the app to download or upload attachments when connected to a Wi-Fi network.
By turning this switch ON attachments will not be shown when connected to cellular data, to avoid carrier costs.
The default setting is OFF.
Related links
Customize mobile app settings.
Feedback
Was this page helpful?
Glad to hear it! Please tell us how we can improve.
Sorry to hear that. Please tell us how we can improve.