View and upgrade Skedulo Managed Packages
Overview
The Skedulo managed package sets up the necessary data structures on your CRM (Salesforce, ServiceNow, etc.) to function with the Skedulo platform.
View installed packages in Salesforce
On Salesforce Lightning: Go to Setup > Platform Tools (Apps) > Installed Packages.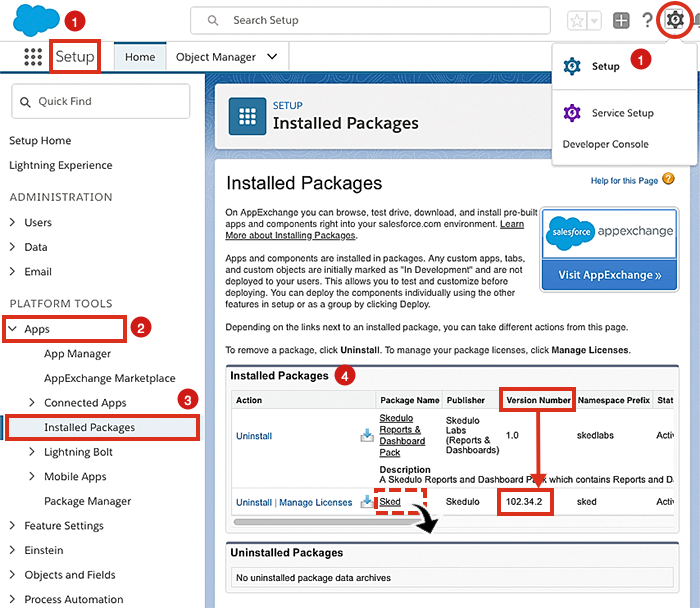 Viewing the installed packages in a Salesforce organization.
To see the package details, click on the package name (e.g., "Sked"). To view the components that make up the package, click on the View Components button.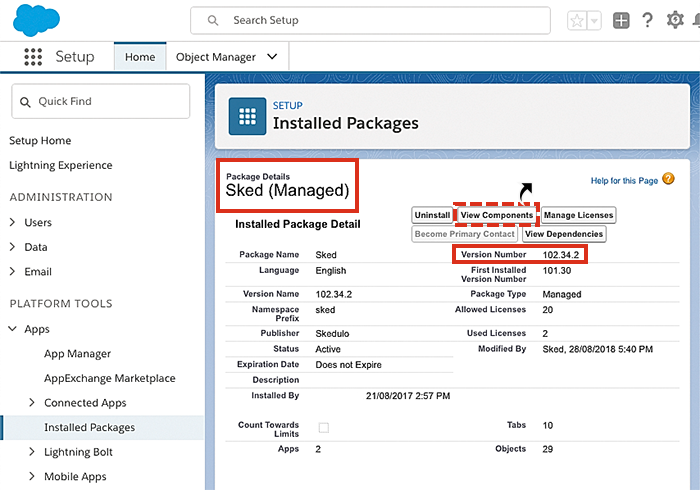 Viewing the sked managed package in Salesforce.
Upgrade the Skedulo managed package on Salesforce
Most of the time, Skedulo will "push" out package upgrades to customers (having notified them beforehand). However, if a manual upgrade is required, it can be completed as follows:
Locate and read the release notes for the Skedulo package updates.

From the two manual installation links provided, choose to upgrade a sandboxed package (for testing purposes) or upgrade your production Skedulo package.

Log in to Salesforce.

Choose which users to update (three options are provided: Admins only, all users, specific profiles).

View the components affected (optional).

Click Upgrade. (You'll then see the response "Upgrading and granting access to…")

Once the upgrade is complete, click Done.
Having successfully upgraded the Skedulo package, you will be presented with the Salesforce Installed Packages page. Here you will see the new version number displayed.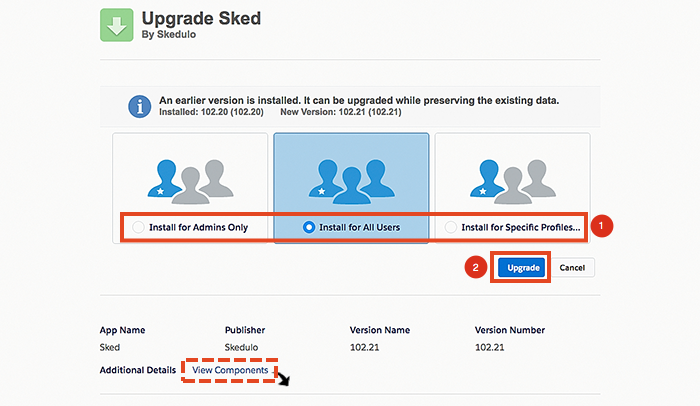 Choosing which users or profiles to upgrade, during a managed package upgrade.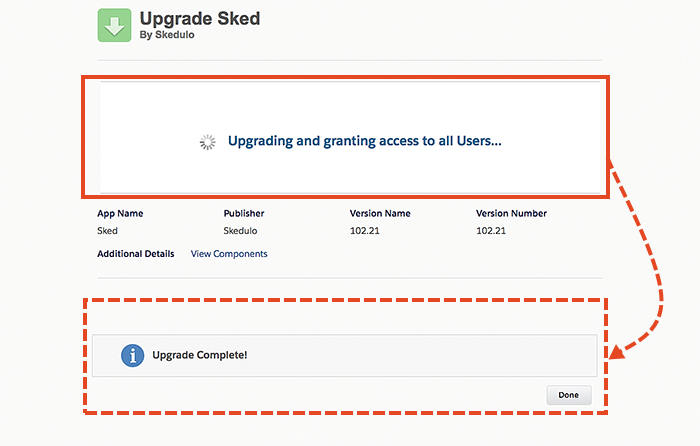 An example showing an upgrade to the Skedulo managed package.
Also, see Manage user permissions.
Important
Using the option Install for All Users is recommended as standard practice for installing Skedulo Salesforce package updates.
It is especially important when Skedulo releases new objects (such as the Shift object for instance). When Skedulo releases new objects, they will also update the appropriate permission sets (such as Resource and Scheduler) to grant access to the new object. If you use Install for Admins Only, resources and schedulers will not receive the updated permission sets and will therefore not be able to access the new object.
If your organization uses custom profiles and permission sets, this may not be an issue. You may be able to use the option Install for Admins Only. But should you encounter any permissions related issues during your testing, this could be the cause. We recommend that if you do use custom profiles, you also provide each user with the Skedulo Base permission set as the minimum requirement.
Feedback
Was this page helpful?