Job custom fields
Overview
Custom fields can be set up to allow additional information to be stored against a job. These are in the form of additional fields in the Fields tab of each job record, and they can be configured to be shown and editable in the web app and/or mobile app. 
For more information about viewing and filling custom fields in the mobile app, see Customize Fields.
Configuring custom fields for jobs
Custom fields can be configured in Skedulo platform and Skedulo for Salesforce, however, the method for creating them differs in each system. For more information on creating and managing custom fields, see the articles that are relevant to your environment:
Skedulo platform
Skedulo for Salesforce
Note
Only administrators can create new fields.
Viewing custom fields in the web app
Once configured, custom fields are displayed in the job details view, under the Fields tab.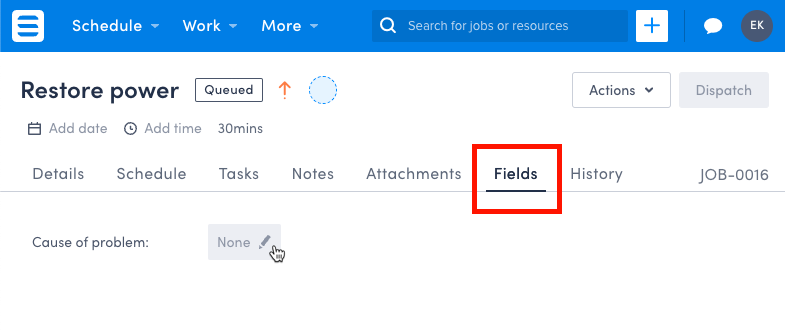 Custom field input types
Custom fields can include a range of input types including:
Text fields
Labels
Lookups
Picklists
Multi-Picklists
Rich text
URLs
Numbers
Date and/or Time
Checkboxes
Note
Custom fields do not have any validation in the Skedulo web app. So any restrictions on these fields in Salesforce will result in an error if the field is updated to an invalid value.
Special cases: Salesforce "Rich Text" fields are read-only in the Skedulo web app.
Feedback
Was this page helpful?
Glad to hear it! Please tell us how we can improve.
Sorry to hear that. Please tell us how we can improve.