Support requests
If you are experiencing a problem with one of Skedulo's products and want to submit a support request, please take a moment to read this article.
Where to Submit a Request?
The Skedulo support page has a button at the top-right corner labeled Submit a request. You can also get there using the following link:
https://support.skedulo.com/hc/en-us/requests/new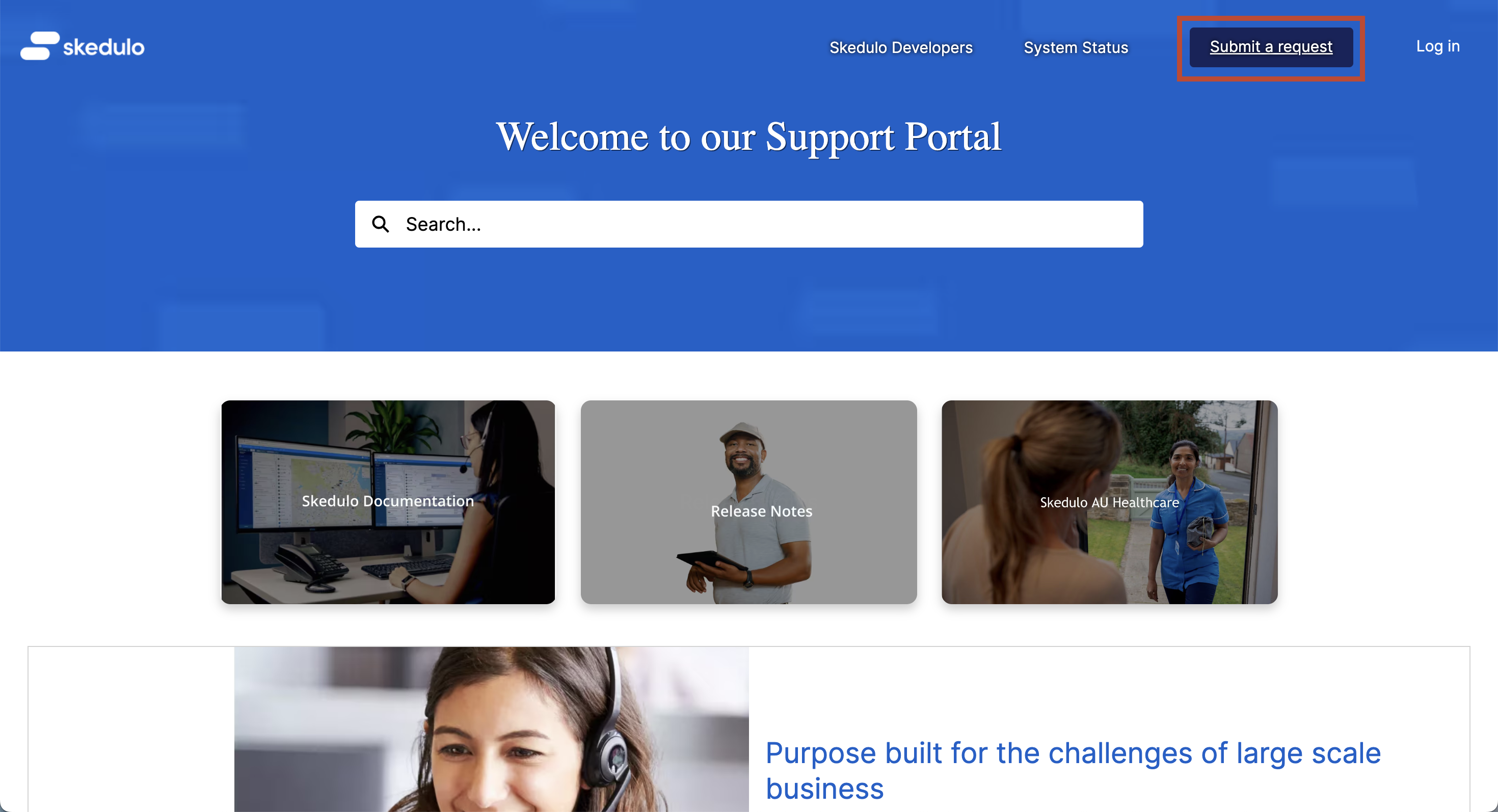 Submit a support request via the Skedulo support portal.
What to Include in Your Request?
The following information is required from you when you submit a request via our support portal:
Your email address.
Subject: A short clear summary of the issue. The support page provides a list of suggested knowledge base articles based on the subject of your support request.
Description:  Include details such as

A brief description of the what, when, how the issue occurs.
The steps to reproduce the error you are experiencing.
Including the relevant application and platform components such as Mobile iOS 11 running on Iphone7, Web Custom Forms, etc.
The Skedulo application's version number.
Expected behavior vs actual behavior.
Resulting in errors and/or error IDs.

What is the impact on your business? (e.g., High, Medium, Low).
Organization: Enter your organization's name.
Attachments if you have them (Screenshots and/or Videos are extremely helpful for our Support team to investigate issues).
Where to Locate Version Details?
You can see your mobile device OS and version details in the following locations:
Android Device
Tap on "Settings."
Select "About device."
Select "Software info." The Android version number should now be displayed in the list.
IOS Device
Tap "Settings."
Select "General."
Select "About." The IOS version number should now be displayed in the list.
Skedulo Mobile App
You can see your Skedulo mobile app version details in the following locations:
At the base of the login screen.
At the base of the more options menu.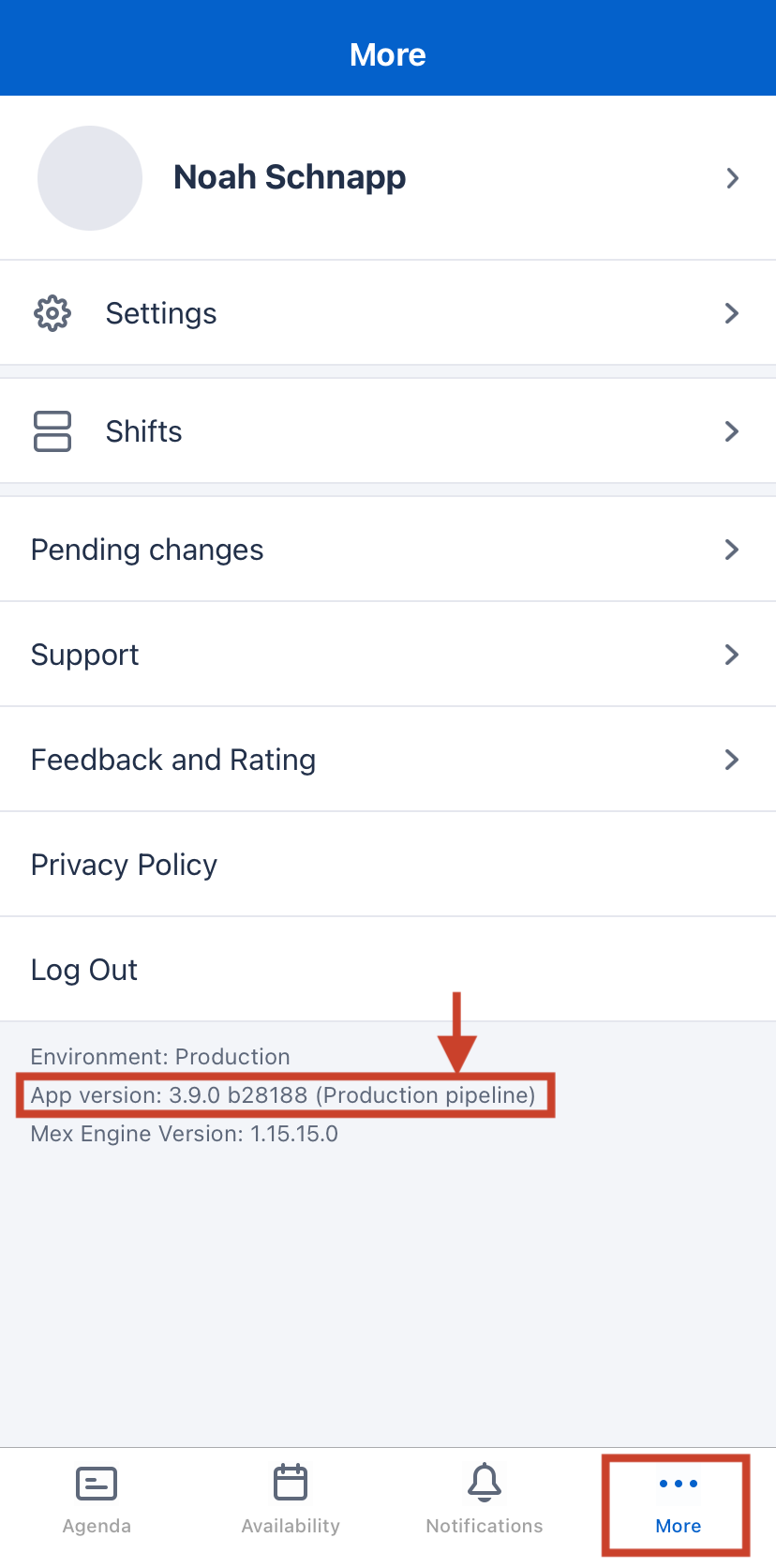 The two locations of the Skedulo mobile app version number.
Skedulo Web App
If you are interested in finding out the current version of your Skedulo web app, you can find the version number using "Inspector" on the web app (Inspector is a Chrome browser developer tool).
Right-click on the user interface and choose "Inspect" from the options.
Click on the "Element" tab and scroll down to the bottom of the view.
Locating the version number of the Skedulo web app.
Attachments
Although attachments are optional, they can be really helpful when troubleshooting. So please include any screen captures of the error that you can–as this may help us pinpoint your problem.
Example support request
The following example shows how to create a support request using the Submit a request form.
Note that the description includes the steps taken to reproduce the issue. This can be particularly helpful for our support team in troubleshooting any specific issues you have encountered while using Skedulo.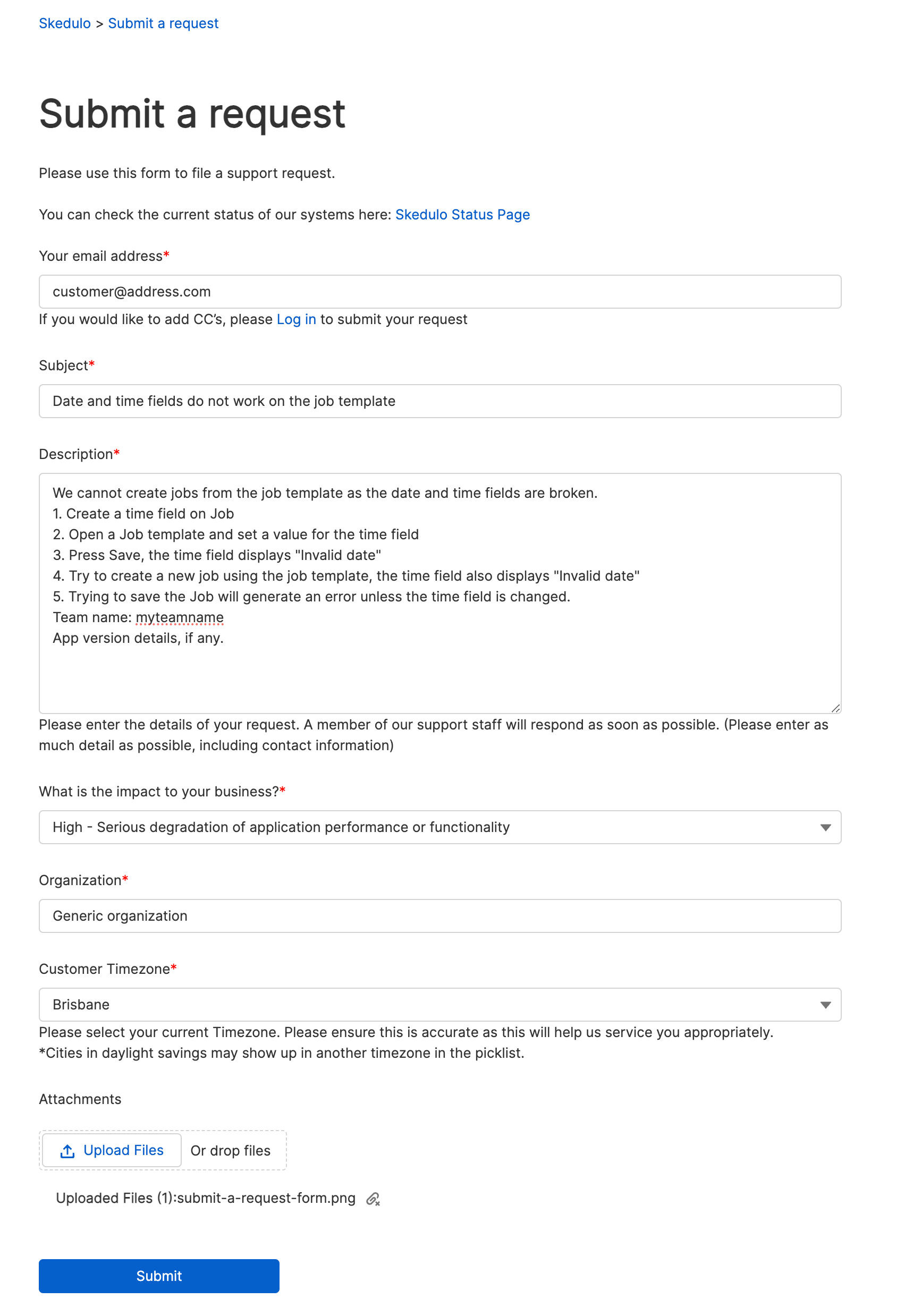 Feedback
Was this page helpful?